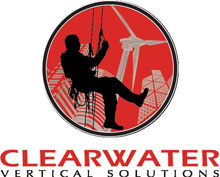 Wind Turbine Rope Access Services
Clearwater Vertical Solutions has over 10 years combined experience maintaining wind turbine structures.
Wind Blade Repair
Clearwater Vertical Solutions has experienced technicians in wind blade fiberglass and leading edge repair, installation of lightning system engineering modifications, lightning system electronic testing and experience working with 3M Wind Energy Products.
Wind Blade Inspections
Warranty commissioning, scheduled inspections and damage analysis, Clearwater Vertical Solutions has experience identifying and documenting wind blade damage and defects.
Tower Rust Remediation
Experienced technicians in the restoration of rusted and damaged metal surfaces and experienced in the use of factory specified tower surface paints and coatings.

Tower and Nacelle Surface Cleaning
Experienced removing oil spills and slicks, grease, and stains in any tower location. The use of environmentally safe degreasers and cleaners are always used.
Decal Installation
Clearwater Vertical Solutions technicians have installed 100's of wind turbine manufacture and wind farm owner corporate logo decals on Nacelle surfaces.
Wind Turbine Ground Work Services
Clearwater Vertical Solutions staffs mechanical workers experienced with tower internal structures and components.
Rope Access Structural Services
Clearwater Vertical Solutions offers maintenance and repair services to a variety of structures and industries.
High Rise Buildings
Bridges
Tower Structures
Window Cleaning
--------
Repair and Maintenance Services
--------
Inspection Services
--------
Commercial Painting
--------
Commercial Glass Replacement
--------
Banner and Sign Installation